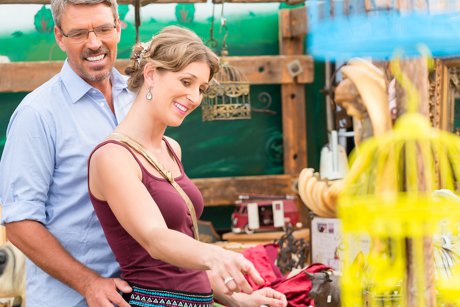 Uncover a treasure trove near Whittier homes at King Richard's Antique Center. In operation since 1979 the venue is located in the original 1903 Whittier Citrus Association Packing House. At 12301 Whittier Boulevard the building overflows with a collection of unique products waiting to be discovered. Individuals come together to display their wares in distinct unmanned spaces providing a welcoming shopping area for consumers.
Multiple floors contain a plethora of antique and one of a kind items. From furniture to knick knacks, a hodgepodge of eclectic goods please customers. There's no limit to what you can find when meandering around. Decorative accents catch the eye of many seeking to add a final touch to an entryway or add a lamp to the family room in Whittier homes. End tables, paintings, vases and even a spinning wheel can easily turn up causing exclamations of "That's it!" or "Wouldn't it look perfect?" Favorite books are rediscovered next to fancy scarves and hats. Find a special piece of vintage jewelry for any occasion. From toys to baseball cards, childhood mementos stir up memories and are often reclaimed during nostalgic moments.
Find that Perfect Something on Whittier Property
Gifts galore line the shelves in the showroom making this the perfect destination to look for the person who has just about everything. Collectors are in absolute heaven with the large accumulation of iconic items. Popular bits of Americana include Coke, Budweiser, Disney and Ford merchandise. Examples of Hollywood glamour are scattered about represented in photographs, movie posters, magazines and more.
High quality household goods are found in the General Store section of King Richard's Antique Center. Stop in for some rich ground coffee, fresh honey and homemade jellies or jams. Proudly claiming the title of "the largest vintage and antique center in California," this place does not disappoint. Many are unprepared for the experience and plans for a quick trips frequently turn into hour long excursions. Dig in and enjoy the treasure hunt on this Whittier property.