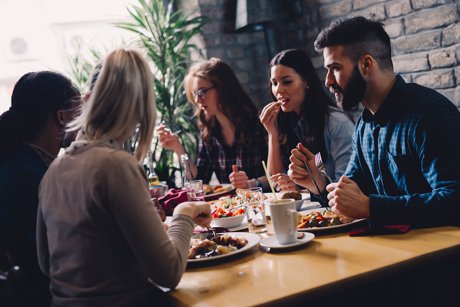 In the Uptown Whittier real estate area a seemingly endless array of restaurants line the streets. From fancy restaurants to low key mom and pop joints all appetites are easily satisfied in this historic part of the city. The region boasts a variety of venues highlighting cuisine from around the globe. International palates find what they seek with Italian to Asian food and everything in between.
Families kick back and enjoy meal time at Marco Polo Pizza. There's plenty for the kids to dig into with jumbo sized pizza pies. Mom and dad often share a plate of homemade lasagna and antipasto salad. The Mission Square Restaurant is a hidden gem offering old school Italian fine dining. Couples often choose this locale for special occasions such as anniversary celebrations. An Asian flair lights up Uptown Whittier streets. Those in the mood for the taste of authentic Japanese sushi sit down at Restaurant Amachi. Here five star plates are served with a smile. Just around the corner is the Asian Fusion establishment Pho & Roll. Regulars living in Whittier rave about the sashimi salad and seafood pho soup found here.
Toasts Ring Out Among Friends Living in Whittier
Many feel as if they wandered south of the border when stepping across the threshold and into La Pescadora which boasts classic Mexican dishes filled with flavor. Around the block, foodies craving the robust taste of an American Barbeque pull up a chair, grab a bib and dig into racks of baby back ribs at Red Oak BBQ and Grill.
Uptown Whittier real estate maintains a lively social setting too. There's plenty of mingling all around town and especially at Phlight Restaurant and Wine Bar. Inside friends indulge in wine flights, handcrafted beers, petite plates of deliciousness and great conversation. Another energetic spot is the Spin Lounge. When the big game is on crowds gather and cheers are heard up and down the neighborhood. Toasts ring out with congratulations for excellent plays and cups are sipped in sorrow for missed opportunities and momentum lost.
When hunger sneaks up on the unwitting, Uptown Whittier restaurants answer the call and the question of what's for dinner. Find out more about these tasty businesses and others in the area here.